Top50 Craft Sites - Advertising
---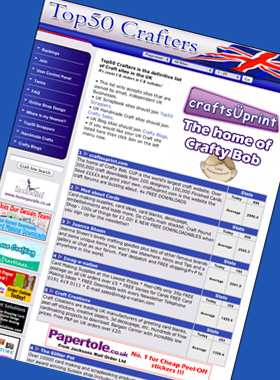 Current advertising costs for our Top50 sites are as follows:

1. Large 468x60 Banner. This banner appears in between the main site listings. The cost for this banner is £15 per month.


2. Small 150x75 banner. This banner appears on the left below the main menu and is rotated with other advertisers. The cost for this banner is £10 per month.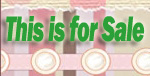 We have a reduced price for upfront payments of 12 months.
Larger Banner = £150 per year (12 months for the price of 10)
Small Banner = £100 per year (12 months for the price of 10)

All prices are plus VAT.

FAQ:
Q. Can I advertise on top50scrappers, top50crafters?
A. Yes you can, the rates are per site, and you would be invoiced separately.
Q. Is there a minimum advertising period?
A. Yes, this is 1 month paid in advance.
Q. Can I cancel at anytime?
A. Yes, you may cancel at anytime before the next invoice has been issued.
Q. Where will my banner be located?
A. The banner will be in the position purchased either on www.top50scrappers.co.uk, www.top50crafters.co.uk. As a BONUS we will also add your banner on our www.craftyblogs.co.uk and www.craftysales.co.uk site free of charge.
Q. Will my advert be in the same position each time?
A. No, your advert will be rotated in all the available slots along with other advertisers.

Q. Do you limit the number of advertisers?
A. Yes, we monitor the hits to the site and adjust the maximum quantity of advertisers to allow for an even and fair showing of all advertisers banners.
Q. How do I sign up?
A. Please fill in the form here.